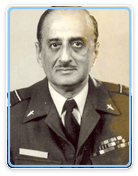 AVM Dr. Jai Krishan Sehgal was born in Multan on 26th Aug 1921 and went on to obtain his M.B.B.S. degree from King Edward Medical College, Lahore in 1944. He joined the Royal Air Force as a commissioned officer in the same year. In 1956, he proceeded to the U.K. to study and obtained D~P.H and D.I.H from the London School of Public Health and DTM&H from the School of Tropical Medicine and Hygiene in Liverpool with distinction. For his excellent performance, he was awarded the Warrington Yorke medal.
In the Indian Air-Force, Dr. Sehgal served as a consultant in-'Social &-Preventive ­Medicine, and later as Professor and Head of Social & Preventive Medicine and Dean of the Armed Forces Medical College in Pune. He was a fellow of the Academy of Medical Science, India and Indian Public Health Association and various other professional organizations, and a member of the expert group of ICMR. At the time of his retirement from the Air Force in 1980, he was Director for Medical Research for the armed forces.
During his career in the Air Force, Dr Sehgal was deputed to take an active role in the Malaria Eradication Programme and Smallpox Eradication Programme launched by the Government of India in association with the WHO. After his retirement from the Air Force, he was actively involved with VHAI, Delhi Branch, and with the Air Force Associations where he helped plan a Veterans Hospital and Old Age Home for Air Force Personnel.
Dr. Sehgal died on 8 June 2001 after a brief illness. He is survived by his wife Dr. Hem Sehgal (Pediatrician), two daughters a son, two sons-in-law, a daughter-in-law and five grandchildren, all of whom miss him dearly.