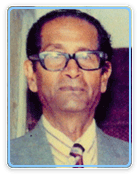 Dr. Atindra Lal Saha was born at Banaripara in Barisal district (Bangladesh) on 1st October, 1918. After obtaining M.B.B.S. degree from R.G. Kar Medical College, in 1942 he joined Army Emergency Service and was posted in Burma. After release from Army in 1946, he persued higher studies and passed D.P.H. and D.T.H. and H examinations of the Calcutta University. He worked as Medical Officer in Plague Research Unit attached to Dept. of Epidemiology of All India Institute of Hygiene & Public Health, Calcutta foe one year (26.04.1949 to 30.04.1950). Then he joined South Eastern Railways and worked as Sanitary Superintendent from 01.05.1950 to 05.07.1955. Dr. Saha joined the Department of Epidemiology, All India Institute of Hygiene & Public Health as Assistant Professor on 06.07.1955, and served this department for 21 years – first as Assistant Professor, then as Associate Professor and finally as professor. He retired on 30.09.1976 from Govt. service on superannuating. During his long tenure of service in the institute, he had some outstanding contributions in the field of Public Health in general and Epidemiology in particular. He was closely associated with Health Surveys in 9 community development projects in different states. The results of these surveys threw light on the health problems of different communities and helped the health authorities to formulate health programmes. As a teacher he was very popular with students. His generosity and pleasing personality won the heart of his colleagues and friends.
After retirement, Dr. Saha went to nNigeria in 1977 and worked as a teacher in Epidemiology in Ahmadu Belloe University Medical College, Zaria, Nigeria till 1982.
Dr. Saha was associated with the Indian Public Health Association since its inception, Indian Medical Association and Indian Science Congress Association. He was Associate Editor of Indian Journal of Public Health for many years, later became its Editor and remained so till his death. He took keen interest in all the activities of the Indian Public Health Association. Dr. Saha edited 'Your Health' the popular journal of Indian Medical Association for some years.
Dr. Saha's health was deteriorating for last several months but the end came all on a sudden on 14.12.1988. He was left behind his wife, two sons and two daughters.