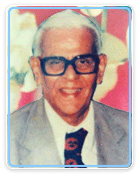 The Indian Public Health Association is shocked to learn the news of the President Dr. K. N. Rao, on the 5th Feb­ruary, 1988 at the age of 81 years while delivering his special address at the annual session at the Osmania Medical'Co:lege, Hyderabad. Dr. Rao suddenly collapsed and passed away within a few seconds inspite of the resuscitative mea­sures adopted on the spot, by the doctors present The incident was so tragic and sudden that no body could realize what was happening with Dr. Rao who was. fresh and vibrant when he addressed the session as Chief Guest.
Dr. Kamaraju Narasimha Rao was born on 31st January, 1907 at Bapatla of Guntur district, Andhra Pradesh. He pa ssed his M. B. B. S. in 1930 and became a fellow of the Royal College of Physician (UK). He joined the Indian Medical Serv­ice, Military wing in 1935 and was prisoner of war in Singapur from 1942 to 1945. In 1946, on release he was transferred to civil If VIS. He worked as professor of Jur­isprudence in Christian Medical College, Vellore in 1948 and 1949 and later in 1951 as Professor of Tuberculosis in Stanley Medical College, Madras. He was also the Tuberculosis Adviser to the Government of Madras (1951-54). He served as Dire­ctor of Health Service of Andhra Pradesh in two terms (1951-56) and 1956.63. He was appointed Additional Director General of Health Services, Government of India in 1963 and became Director General of He­alth Services, Govt. of India in 1964 and served on that post till 1968. He was also the president of Tuberculosis Association sudden and sad demise of its former of India.
Dr. Rao was a great medical scientist cum administrator and was associ­ated with a large number of professional and scientific in India and abroad. He was
the recipient of the awards like Dr P.N. Raju's oration award of ICMH, Sorabhdi oration award of the Association of Phy­sicians of India and Dr. B.C. Dasgupta oration award of Indian Public Health As­sociation of which h~ was also the Presi­dent during the year 1966.
Dr. Rao functioned as Chairman of the Expert Committee of WHO on Tuber­culosis and was also the Chairman of the Executive Board of WHO in 1967-68 and served as the first President of World Federation of Public Health Associations and consultant for Medical Education of WHO/PAHO for Latin America. He was conferred the Honorary LL.D. by 1he Shri Venkateswara University, Tirupati. He was the Executive Director of the National Academy of Medical Sciences from 1975t01979, and brought into exist­ence the International Medical Science Academy on the 28th March, 1981 and had been its founder Fellow and Founder President since then. its present status.
As an authority in Family Planning and population control he contributed valuable papers for guidance of the people and medical profession. He was also deeply interested in the medical educati­on and toured all over the world to gather the experience of all countries in this respect. In fact, he acted as the Vice ­Chancellor of the recently established University of Health Sciences, Viiaywada, Andhra Pradesh as a pioneering Univer­sity in medical and hearth science in India since 1st November, 1986.
Dr. Rao was not only a well accredated leader of medical profession in India but he served as a world leader in the International medical and health field, Medical profession has lost a great leader, The Association deeply mourns for the loss and the void created will be difficult to fill.