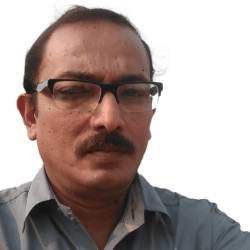 Dr. Kunal Kanti Majumdar: (IPHA Life Membership No.- L/1990/WB/2325)
Born: 28/03/1962
Dr. Majumdar working as Professor, Department of Community Medicine, K.P.C Medical College and Hospital, Kolkata. 1F Raja S.C Mullick Road, Kolkata.
He is the Ex Consultant UNICEF, Kolkata and Arsenic specialist WHO (SEARO). He is the associate and Joint Editor of Indian Journal of Public Health.
Acted as a life member of Indian Public Health Association for last 31 years. He was actively involved and participated in many activities of IPHA since his joining in IPHA. Attached to IJPH as Assistant, Associate and Joint Editor for more than 15 years. Member of IAPSM for more than 15 years.
Actively involved with arsenic and fluoride mitigation for nearly 20 years and regularly visits various arsenic affected blocks and villages for creating awareness among people on arsenicosis, attending health camps for early detection of cases, training of grass root level health workers like ASHA, ANM and to perform epidemiological studies to assess disease burden. Involved in training of Medical Faculties in Medical Colleges of West Bengal on early diagnosis and treatment of arsenicosis.
He is involved in training and capacity building of Medical Officers and Health Workers in Various National Programmes such as IMNCI and Perinatal Health (under RMNCH+ A), NACP, NCCPE, WASH FIT orientation of Kayakalp Committee under Swach Bharat Abhiyan etc.
He served as the School Medical Officer in the Assembly of God Church Hospital for 3 years.
He acted as investigator and co investigator of more than 20 research projects supported by ICMR, UNICEF, NEERI, IIEST, ICAR, PHED, SaciWATERs India, Queen's University, Belfast, U.K, University of California, Berkley, USA, AID, U.S.A and DNGMRF Kolkata.
He has currently 72 paper publications in indexed journals. (Publication of articles in International Journals – 42, Publication of articles in National Journals – 30).