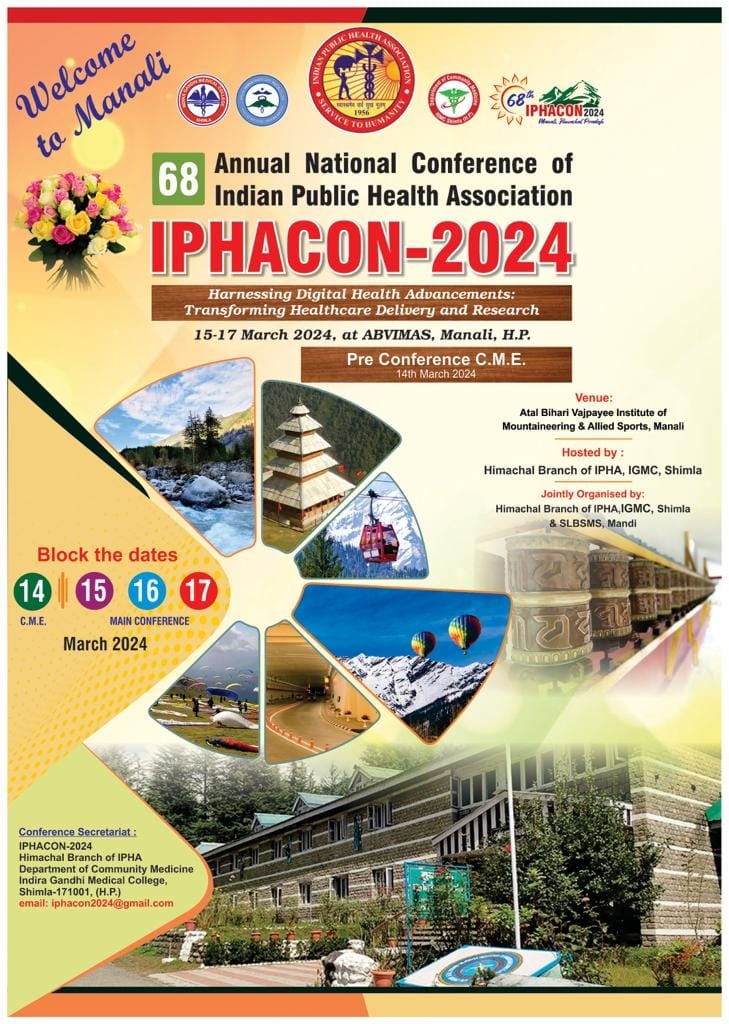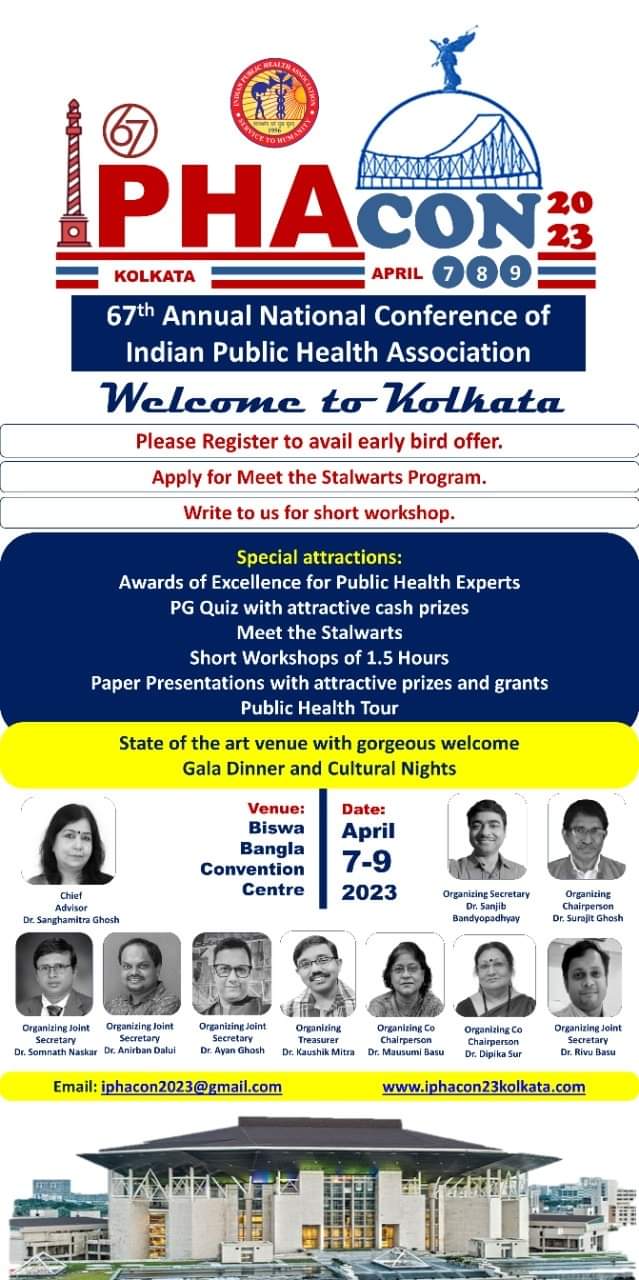 67th IPHACON 2023
Dear IPHA Members,
Greetings from City of Joy!
It gives us immense pleasure to inform you that the 67th Annual National Conference of Indian Public Health Association (IPHACON 2023) is being organized by the IPHA West Bengal State Branch from 7th April to 9th April (with pre-conference workshop on 6th April 2023) in Kolkata, West Bengal.
IPHACON 2023 Master Class Series (CMEs and Pre-conference Workshops)
CME on One-Health: Future Paradigm of Health Research and Practice
The CME is designed for those who thrive to move to the next level. This platform will launch you for the futuristic world of biomedical research and public health practice. Do not miss the opportunity. Date: 1 st April 2023 Pre-Registration mandatory. Mail us your queries in advance:
[email protected]
Mail for payment regarding issues:
[email protected]
Offline CME on Occupational Health
An offline CME on Occupational Health is going to be organised by Indian Public Health Association West Bengal State Branch on 3rd March as a part of Pre-conference series of IPHACON 2023. CME venue will be the Department of Community Medicine, IPGME&R and SSKM Hospital, Kolkata. Click on https://forms.gle/UnCEJAC2wewP2RWL8 to get registered. Enrollment fees is only Rs. 300/-. (Pre-registration is mandatory).
Master class on Mixed Method Research (online workshop for IPHA Members only)
This master class is ideal for graduate students, researchers, and professionals in the public health, Community medicine, social sciences, and related fields.
Program Highlights: Introduction to mix method research and its philosophical approaches Typology and designs in mixed method research Limitations and issues with mixed method research Different examples of mixed method researchs 1) Surveillance 2) Digital health 3) Program evaluation
National Workshop on Application of Python in Health Research
Public Health Master Class Series (as a part of IPHACON ). Date: 17th - 19th February Venue: IPHA Bhaban, Kolkata. Course Instructor/Speakers: Dr. Arkaprava Sau & Ms. Ishita Bhakta
Online Workshop On Quality Research Publications In Academia: How To Safeguard From Predatory Journals
An online workshop on Quality Research Publications in Academic will be held on 3rd December 2022.
Online Workshop on Economic Evaluation of Public Health Programmes
IPHA West Bengal State Branch is going to organize a online workshop on ECONOMIC EVALUATION OF PUBLIC HEALTH PROGRAMMES (as a part of IPHACON2023 pre conference workshops) on Nov 28, 30 and Dec 2, 2022. Prof Dr Barun Kanjilal, Ex Prof, IIHMR, Jaipur will be the course faculty. Please follow the flyer for further information and register at your earliest convenience. Registration link: https://forms.gle/vvLKDqhCvGgtSRDs8 Course fee: Rs. 800/- (Rs. 300/- discount for all IPHA Members)
Pre-conference Workshops (6th April 2023)