Report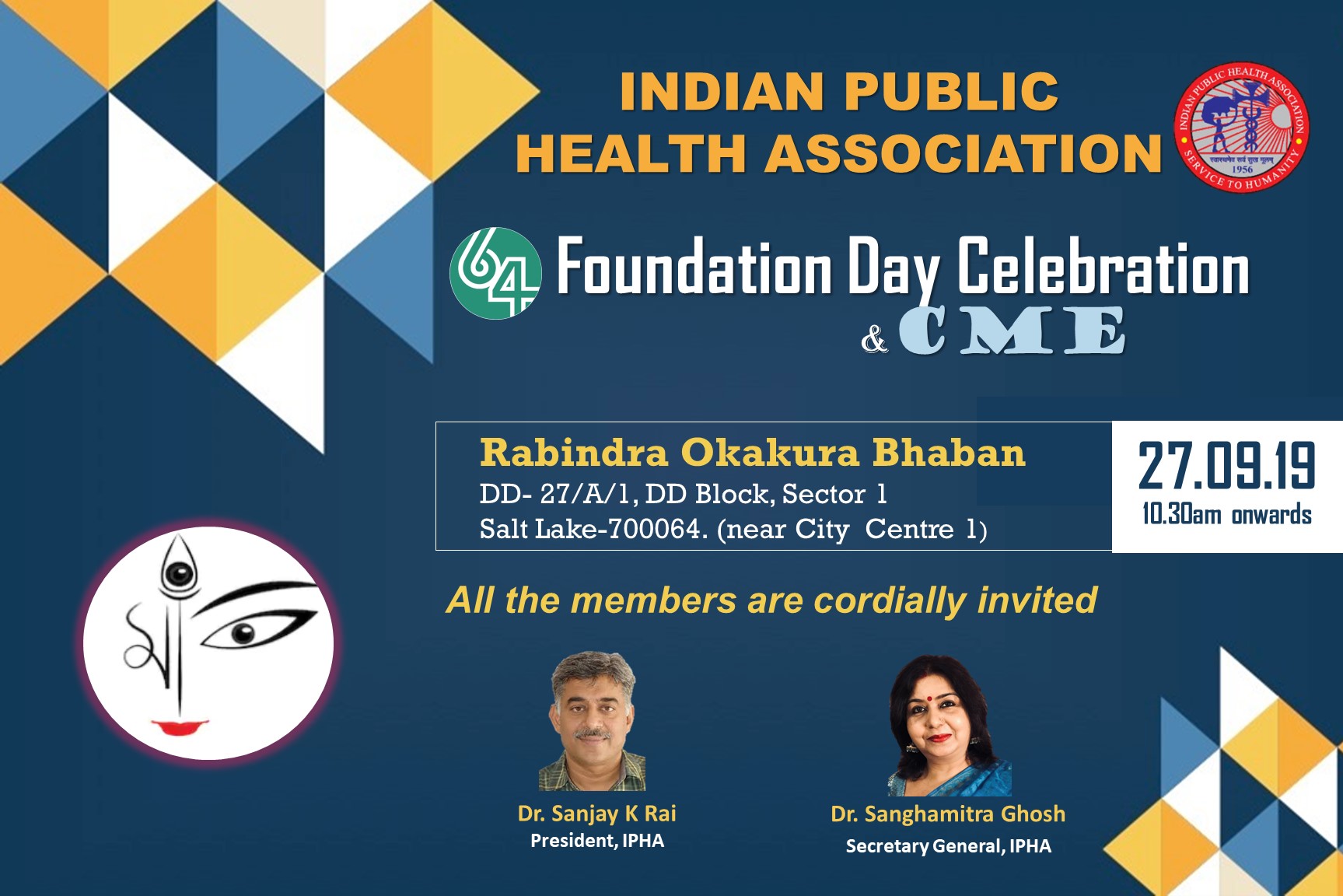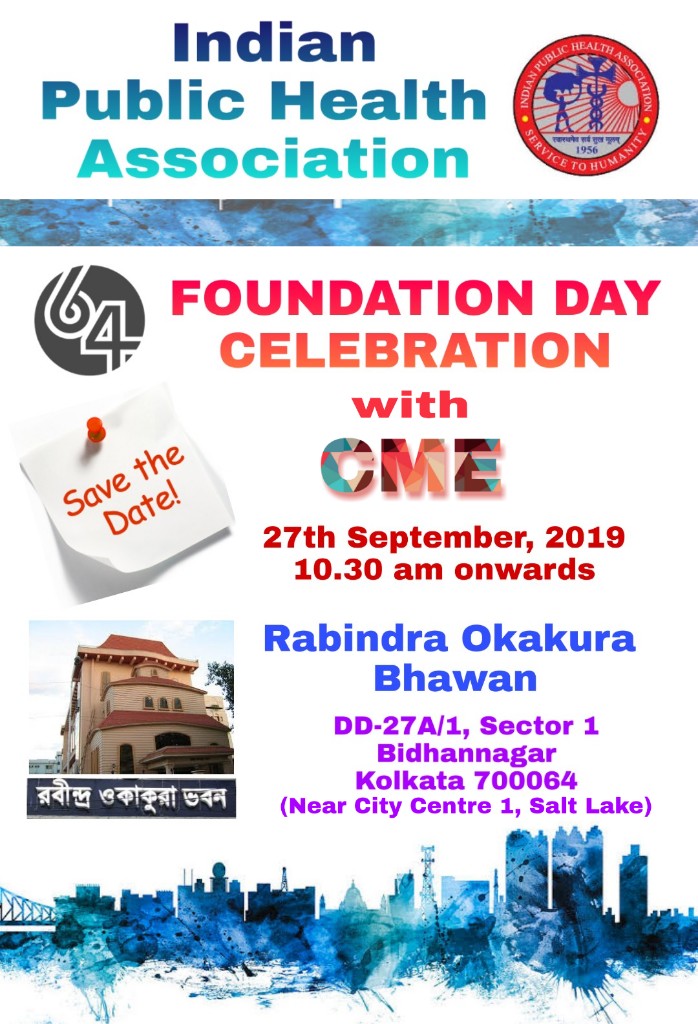 Ref. IPHA/64th Foundation Day/Invt.//                                                                                                            Date: 16-09-2019
To
All Members,
Indian Public Health Association
Greetings from Indian Public Health Association (IPHA)!
It is our immense pleasure to announce that IPHA HQ is going to observe it's 64th Foundation Day celebration programme at Rabindra Okakura Bhawan, Saltlake, DD- 27/A/1, DD Block, Sector 1, Salt lake,  Kolkata – 700064 (near Salt lake City Centre 1) on 27th September, 2019 from 11:00 a.m. onwards.
Indian Public Health Association, established in the year of 1956, is a dedicated organization having the goals like Promotion and advancement of public health and allied sciences in India, protection and promotion of health of the people of the country, and promotion of co-operation and fellowship among the members of the Association. It is also one of the founder-member Country Association of World Federation Public Health Associations.
This year IPHA Foundation Day has been themed on Public Health issues orchestrated with Adolescent health, maternal and child health, Health Economics, medical education etc. IPHA always encourages and invites the discussion on recent public health related issues to modify existing program and to help in policy making.
In this context, we would like to invite you in the Foundation Day ceremony. We shall be obliged if you kindly accept our invitation and grace the occasion. Please register to celebrate the Foundation Day of IPHA through google form/ nodal persons/ online.
Google Form link for Registration:
Thanking you in anticipation,
Yours sincerely    
Dr. Sanghamitra Ghosh
Secretary General,
Indian Public Health Association.  
Tentative Programme 
TIMING

PROGRAMME

 

11:00 – 11:30

Registration

11:30 – 12:30

Inauguration & Life Time Achievement Award

12:30 – 13:10

Dr A.L. Saha Memorial Oration-

Orator – Dr. M.K. Sudarshan,

Chairman,

Fortis Hospital Ethics Committee, Bangalore

13:10 – 14:00

Session on Maternal Health-

Dr Debasish Bhattacharyya,

Director of Medical Education, West Bengal

14:00 – 14:40

Lunch

14:40 – 15:20

Session on Medical Education –

Dr Vedprakash Mishra,

Hon'ble Chancellor,

Krishna Institute of Medical Sciences, Karad, Maharashtra

15:20 – 16:00

Session on Obesity –

Dr Sujoy Ghosh,

Associate Professor,

Department of Endocrinology,

IPGME&R, Kolkata

16:00 – 16:40

Session on Child Adolescent Psychiatry-

Dr Jai Ranjan Ram,

Consultant Psychiatrist,

Apollo Gleneagles Hospital, Kolkata

&

Jt. Director,

Mental Health Foundation, Kolkata

16:40 – 17:20

Session on Ayushman Bharat: Its Rationale, and Implications for People's Health 

Dr Achin Chakraborty,

Director,

IDSK

17:20 – 17:40

Valedictory

17:40 – 19:00

Social Evening