Following independence of India, Primary Health centres emerged on the basis of the recommendation of the Bhore committee (1946). With the expanding public health programmes and the nation building activities, people of the country are now expected to better realize the dictum "Prevention is better than cure". With such a short history, modern public health as a science or service is still young in India and the need for an All India Association of Public Health was not actually thought of until the All India Institute of Hygiene and Public Health was established at Calcutta. However, with the re-designation of Medical Services as Health Services and Establishment of Ministry of Health Services and establishment of Ministry of Health (now Ministry of Health and Family Welfare) at the Central and State Levels, the situation turned favourable for the establishment of the Indian Public Health Association as an all India body. It was inaugurated in 1956, the same year when the society for Medical Officers of Health in England celebrated their first centenary and the American Public Health Association was running 84th Year and the Canadian Association 46th year of their establishment.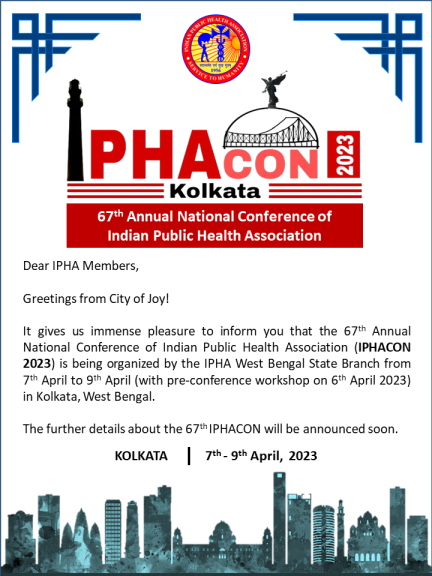 Indian Public Health Association West Bengal State Branch is pleased to announce that it is organising IPHACON2023 at Kolkata. We want all of you to participate in the conference whole heartedly. We have arranged for a competition to suggest slogan and theme of the conference. You may also suggest pre conference CME tracks. The best entry for slogan and theme will get attractive prizes in the conference. So, put your thinking caps on and start creating! 
Last date is 25th October, 2022.