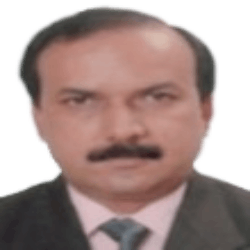 Dr. Ashok Kumar: (IPHA Life Membership No.- L/2010/CHD/5562)
Born: 21/06/1963

Presently working as Professor-cum-Additional Medical Superintendent, Dept. of Hospital Admn., PGIMER, Chandigarh. Previously he has served as Assistant Professor of Department of Hospital Administration from 10.01.2008 to 30.06.2011, Associate Professor, Department of Hospital Administration from 01.07.2011 to 30.06.2014, Additional Professor, Department of Hospital Administration from 01.07.2014 to 31.07.2018 at Postgraduate Institute of Medical Education & Research (PGIMER), Chandigarh.
He was Chief Medical Officer at Farakka Barrage Project Hospital under Ministry of Water Resource, Government of India on 1996-2000. Between 2000 to 2007 he was served as Deputy Medical Superintendent at Postgraduate Institute of Medical Education & Research (PGIMER), Chandigarh. He is the Officer In charge of PGI Satellite Centre (Additional Charge), Sangrur, Punjab. Additionally he is the Medical Superintendent of All India Institute of Medical Sciences (AIIMS), Uttar Pradesh.
He has achieved Fellowship honour of Royal College of Physicians (FRCP), London. Achieved WHO Fellowship during the Training programme on Health Policy and Advocacy from 13th February to 23rd March in the year 2012 at Center for Health economics and Policy Analysis, School of Public Health Universitas Indonesia, Depok- West Java, (Jakarta).
He is the Life Members of several national and international medical associations such as Infectious Disease Society of America, USA; Federation of European Microbiological Societies, Europe; International Health Economics Association, USA.; Critical Care Society, Kochin, India; Indian Association of Preventive & Social Medicine, India; Research Foundation of Hospital and Healthcare Administration, Deptt. of Hospital Administration, AIIMS, New Delhi, India; International Epidemiological Association, KG Medical University, Lucknow, India; Indian Public Health Association, Kolkata, India.
He has 34 publications. (International- 19 nos., national – 15 nos.)
He is the member of Expert Committee Pradhan Mantri Swasthya Suraksha Yojana (PMSSY); Peer Assessment Committee of Hospitals/Institutes under Kaya Kalp Award Scheme: Selection Committee (AIIMS (Rishikesh), AIIMS (Raebareli) and AIIMS (Jodhpur).
He has associated with several projects like District Level Household Survey-4 (DLHS4), CAB Component, assessment in Punjab, Chandigarh & Haryana. National Institute of Health & Family, New Delhi, 2013, Strengthening Management of Hypertension Services through Capacity Building, Media and Communication and Stakeholders Engagement in State of Punjab.