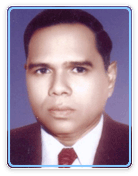 Dr. J.E. Park was born on 20th March 1928 at a small city Samalkot near Kakinada, Andhra Pradesh where his father was a practicing physician. He showed his excellence in academics from his childhood – clearing the Metric Examination at the age of 13 years due to double promotion in school. Being underage for admission in medical college he did his B.A from Andhra Christian college, Guntur. He joined Andhra Medical College, Vishakhapattanam and graduated in 1952. Took his D.P.H. from Calcutta University in 1955 and M.D. from Lucknow University in 1962. He did his further studies at London School of Hygiene and Tropical Medicine during 1965-66 and visited Oxford, Cambridge, Edinburgh and Birmingham Universities under Colombo Plan.
He held various teaching and  academic assignment during his illustrious carrier. He was professor of Preventive and Social Medicine at various state Medical Colleges in Madhya Pradesh – Gwalior, Jabalpur and Indore during 1963-79. He became Professor and chairman, Department of community medicine, Al Fateh University. Tripoli, Libya (1979-81) and Professor of Community Medicine Garyounis University, Benghazi (1983­84). Remained visiting Professor to Tripoli and Benghazi Universities, Advisor to WHO (SEARO) New Delhi, Member Nutrition Expert Committee, ICMR, New Delhi. Other assignments by him were as Member, Scientific Advisory Board ICMR New Delhi, Dean Faculty of Medicine, University of Jabalpur and Inspector, Medical Council of lndia.
He was awarded Fellowship of Indian Academy of Medical Sciences in recognition of his extraordinary contribution to his subject at the age of 44. He was also Fellow of Indian Public Health Association and Member, International Epidemiological Association etc.
He was a renowned author and prolific writer. He wrote several well-known books, mainly Text Book of Preventive and Social Medicine, which became the corner stone of the subject in Asian countries. He also wrote "A Short Text Book on Community Medicine "Published by Al Fateh University Libya, Text Book of Community Health for Nurses and Essentials of Community Health Nursing, which has been translated into Hindi and Marathi also.
He expired on 6th October 1989 at Tripoli, Libya