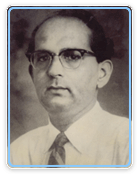 Dr. Probodh Chandra Sen (M.B.B.S, D.P.H., Ph.D., F.I.P.H.A.)
Probodh Chandra Sen was borne on January 7, 1915 in Kolia Village of Jessorc District (now in Bangladesh). His father the Late Amritalal Sen was Inspector of Police of the then Bengal. His mother was the Late Tarala Bala Devi having 4 sons including Dr. Sen and 4 sisters, out of whom one sister is now alive. Dr. Sen passed away on 2nd November 1984 at the age of 69 years.
  Education and Training:
He received his primary education in the Kalia Village, a well known culturally developed rural centre in the District of Jessore. He passed his Matriculation Examination from the South-Suburban School, Bhowanipur, Calcutta in 1931 and I.Sc. Examination from the Bangabashi College 1933 and entered with the Calcutta Medical College in 1933 and entered with the Calcutta Medical College in 1933 with graduated from there in 1939. He served as a house Surgeon in the Medical College for 6 Months and then joined the Howrah General Hospital when he worked up to May 1942, and then joined the D.P.H. Course at the All India Institute of Hygiene and Public Health, Calcutta from when he qualified in 1943.
  Appointments held: 
Following his D.P.H. qualification he was appointed as Demonstrator of microbiology when he served from May 1943 to August 1943 and was then transferred as Demonstrator in the department of Nutrition Biochemistry and Physiological Hygiene of the same Institute and served then up to May 1945. In June 1945 he was appointed as Assistant O.C. Training, Singur Health Centre in which post he served till October 1948 and then promoted to the post of O.C. Training, Rural Health Unit and Training Centre, Singur. In August 1955 he become the O.C. Administrator and Assistant Professor of Public Health and served in this post till June 1965. Between 1960 and 1965 he also officiated as Associate Professor of Public Health Administration, All India Institute of Hygiene and Public Health, Calcutta. He was then appointed as G.D.O (General Duty Officer) Grade-1 and served in this post till September 1969. In October 1969 he was appointed as Director of Medical Health and family planning serviced, Manipur (Suppertime Grade-II of Central Health Service) and retired there on 7th January 1973.
  Experience and Specialised Training:
In 1962 he also visited the National Institute of Community Development, Mussorie (U.P.) to join the orientation course.
The same year visited people Republic of Bulgaria to study and report on the public health organization of the state.
Visited Directorate of Health Orissa in 1963 to study and suggest plans for organisation of orientation training centre at Mandhasal.
In 1966 he was deputed to participate in the conference on Rural Health Research Project, Narangal, Punjab and recommended plans for orientation of doctors to rural health service.
He served as a Senior Consultant of health related projects of the American Public Health Association at international level in 1981.
As a staff of the All India Institute of Hygiene of Public Health for 24years he participated in the training of D.P.H., L.P.H., D.M.C.W. C.P.H.N., Health Education DTM with H, M.B.B.S and other courses, and also served as external lecturer at the School of Tropical Medicine, Indian Institute of social Welfare and Business Management, Social Education Organisers Training Central at Belur, Dr. H.C. Mukherjee Memorial Health School, Singur. Also, while hosted as Director of Medical, Health and family planning services in Manipur he took active part in establishing a Medical College there. He also served as examiner for Preventive and Social Medicine of the Calcutta University and as papersetter in B.Sc.  (Home science) of the Jadavpur University.
  Membership of Scientific Boards: 
Dr. Sen was a member of the Indian Medical Association Life Member of the Indian Public Health Association and late its fellow. Nutrition Association of India, Vice-President of this Public Health Association and member of the Editorial Board of the Indian Journal of Public Health for some time and of the Singur Health centre Bulletin.
  Special Assignments:
Served as a member of the Task force in the preparation of fifth 5 year plan of the planning commission, Government of India 1972.
Served as a member of the WHO team in the eradication of smallpox in India in 1967for about 4 months.
Participation in the Health and service economic survey of the Calcutta Metropolitan Development Authority are between 1976 and 1980.
  Research Experience and Publication:
Dr. Sen under took field investigations on nutrition as Comunicaly Indias and published 50 scientific papers in various journals. His Ph.D. thesis was an "The effect of worm infestation on nutritional status of man."